Nomus tMux
STM-1 Terminal Multiplexer
The Nomus T-Mux is an STM-1 Terminal Mux CPE. When used opposite an STM Add-Drop Mux, it provides an economical means of transporting 4 E1s & Ethernet Data over SDH networks. When used as a pair, it provides point-point connectivity over a fibre-optic link.
The T-Mux WAN STM-1 interface is provided with a choice of LC or SC connectors. Various fibre modules can be provided by Nomus, based on user requirement. It optionally supports 1+1 MSP protection. Clocking modes supported are: Internal, Recovered from STM or from E1.
The T-Mux provides 4 E1 interfaces operating in unframed & balanced mode, conforming to ITU G.703. The E1 data is mapped to 4 VC12s in a single VC3. The T-Mux also supports 2 FE ports for Ethernet data transported by bonding 2 VC3s for a bandwidth of 96.6 Mbps. Encapsulation & Bonding is based on industry standard GFP/VCAT/LCAS. It provides bridging or transparent mode with support for VLAN frames. It provides VLAN & DSCP based QoS with rate limiting.
The Nomus T-Mux provides a complete management suite on an out-of-band Ethernet Console for HTTP, Telnet & SNMP based management. Front Panel switches provide per channel loopbacks with visual status being provided by LEDs. Power supply is through an internal SMPS which supports both a wide range AC or DC inputs.
Application Diagram 
(1) Connectivity of T-Mux with STM-1 ADM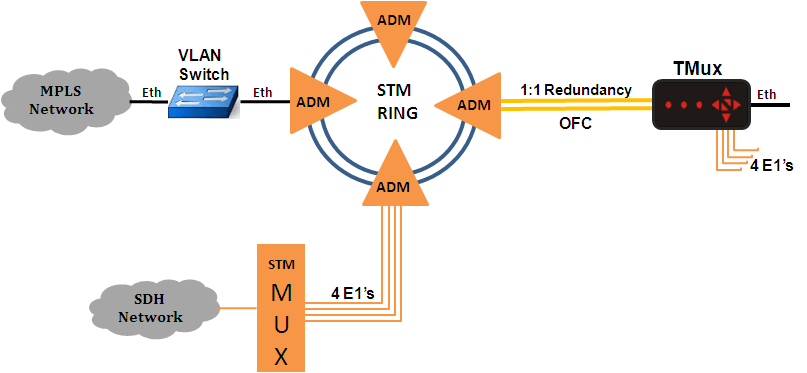 (2) Point – Point connectivity with T-Mux

STM-1 Terminal Mux for CPE operates with an STM-1 Add-Drop Mux for SDH networks
Operates with a peer T-Mux for Point-point connectivity
Provides optional 1+1 MSP protection
Convenient LC or SC Fibre connector with modules for a variety of applications
Supports 4 E1 Ports per ITU G.703, Unframed & Balanced modes
Supports 2 switched FE ports for a Bandwidth of 96 Mbps transported as 2 bonded VC3s
Industry Standard Encapsulation, Bonding, Provisioning Protocols per on ITU GFP/VCAT/LCAS
Transparent & bridged mode with STP
Supports VLAN & QoS with 2 queues based on DSCP & VLAN priority
Supports Ingress & Egress rate limiting
Supports out-of-band FE Console port
Management via HTTP, Telnet & SNMP
Front Panel Switches for Loopbacks
LEDs for visual status indication
Rugged Metal cabinet with Extended range for both AC & DC Power Source.