NOMUS LSPD-102/104 Series
LINE SURGE PROTECTION DEVICES
Surge Arrestors for Datacom/Telecom Devices
The Nomus LSPDs are designed to have fast response time especially for protection of high speed data communication equipments like Datacom / Telecom devices. A combination of coarse and fine protection devices are incorporated to provide effective protection from:
• Lightning & Power Surges on the Telephone Line
• Commercial AC power-cross fault condition
The LSPDs are compact, stand alone devices with input and output connection to match a variety of modems. Besides providing protection, they provide the convenience of being easily replaceable, in case of failure. The LSPD can be by-passed and the equipment that it protects can be directly connected to the line while the LSPD is being replaced.
Standards
The LSPDs are designed to meet various international standards like IEC 61000-4-5 / ITU-T K.20, K.21 for surge current waveforms of 10/700us, 8/20us etc. and surge voltage of the amplitude of more than 1KV due to lightning. Protection for power cross and over load condition is also provided. They are equipped with combination of Semiconductor Protection Devices to provide both Over Voltage and Over Current protections against Common-Mode and Differential Mode Surges.
Operation
In case of a power fault or over current, the LSPD turns to High Impedance/Open circuit state and protects the downstream equipment from damage. Under normal operating conditions, the LSPD will be transparent to the protected equipment. In case of Lightning Surges, it clips the excessive voltages and diverts the surge currents to Earth giving protection to the connected equipment, like modem.
WHY NOMUS LSPDs?
• Highly effective and reliable.
• Even in worst case situation, LSPDs get self shorted providing ultimate protection to save the modems.
• Very Compact and convenient to use in the field as an external protective device.
• Can be easily bypassed, in case it fails, to keep the circuit up to minimize the downtime of the link.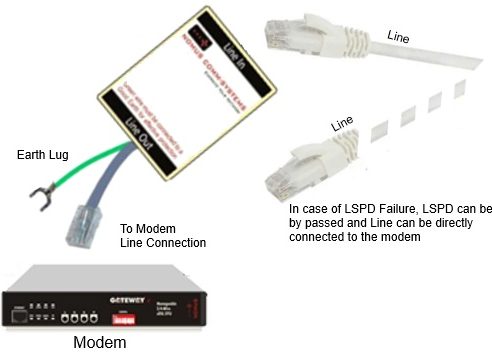 Technical Specifications 
Line Interface:
Supports 1 or 2 Wire Pairs.
Line Side Connector – RJ45 Socket.
Device Side Connector – RJ45 Plug.
Earth Wire Connector – Telecom Lug / screw connector.
Meets IEC 61000-4-5 / ITU-T K.20/21 Specifications for Surge Immunity.
Failure Mode:Short Circuit mode to provide ultimate protection.
Maximum Surge voltage Differential Mode: 1.5KV
Maximum Surge voltage Common-Mode: 4KV
Maximum Surge current: 500A @ 2/10uS
Maximum Continous DC Voltage: 170V
Nominal load current: 160mA
Nominal Discharge Current: 5KA @ 8/20uS.
Impulse Limiting Voltage: <900V @1KV/uS pulse.
DC spark-over Voltage: 180-300V.
Bandwidth: 2.3MHz.
Mechanical: Sturdy Enclosure Complying to Min IP20.
Operating Temperature: 0 to 60C; 95% Humidity